High Efficiency Particle Arrestor (HEPA) filtration provides ultimate protection for your equipment enabling filtration levels of 99.5% efficiency at 0.1 micron partical sizes. This eliminates the need for compressor cleaning and avoids the associated machine power loss and downtime. In addition to increased power output, savings are also created through compressor cleanant costs, fuel savings and machine overhaul.
HEPA filtration has been available as multistage filtration units for many years however GORE Turbine Filters, through its unique technology, provide HEPA filtration as a single stage filter whilst their performance gives a low filter pressure drop and life span similar to existing low efficiency filters.
This makes the product an ideal retrofit solution since no filter house modifications are required and the savings generated quickly outway the capital cost involved.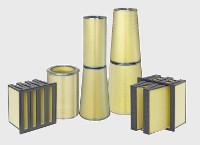 As represntative for W.L.Gore & Associates GmbH we conduct business on behalf of the manufacturer.
Please contact us to discuss the benefits of applying them to your particular installation or email us at sales@industrialturbineservices.com
for a quotation.